What's a MADA?
It is no secret that the results of the 2016 election have highlighted great divides in opinion, whether between family, neighbors, or perfect strangers. In an attempt to build understanding and move forward together, we'd like to invite people to sit down and have dinner. There are many avenues to protest, to donate, to fight, to be heard; Make America Dinner Again is an avenue to listen.
These small dinners consist of respectful conversation, guided activities, and delicious food shared among 6-10 guests who have differing political viewpoints, and our country's best interests at heart.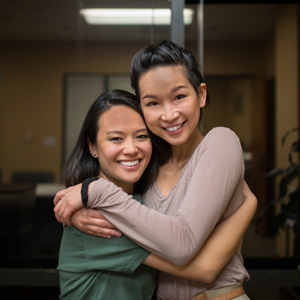 About the Original Organizers
Justine Lee and Tria Chang are two Americans who felt disheartened by the often polarizing and vilifying language used during and after the 2016 Election. Make America Dinner Again (MADA) is their way of building empathy in their community, one conversation at a time.
Host Your Own Dinner
The first MADA event took three months of planning and plenty of trial and error. Organizers Justine and Tria put together a step-by-step guide to make hosting your own MADA event easy as pie. Download the guide here.
They've also put together a "host kit", containing the logo in various formats, and printable items like letterhead to use for menus, icebreaker activities, and cards with inspiring quotes to place around the dinner table. Download host kit here.